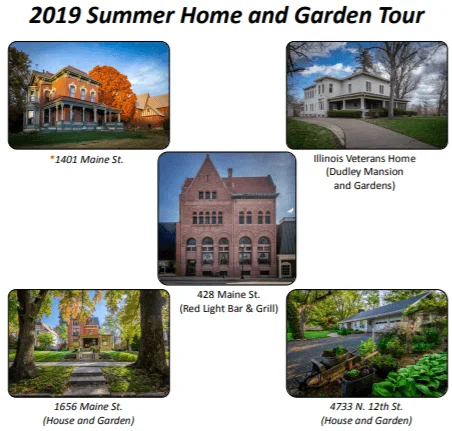 You are invited to a brand-new Quincy Preserves tour to experience beautiful historic indoor and outdoor living. This year's tour includes secret garden spaces, outdoor relaxation areas, grand homes, and a unique restaurant venue.
Our tour locations take you all over the Gem City. You will see slices of normally private spaces that offer inspiration for your own back yard and historic homes that highlight some of the best architecture of Quincy.
Quincy Preserves tours help support and bolster Quincy's unique catalog of great architecture through donations, scholarships, commercial and residential façade programs.
Featured on this NEW summer tour:
Illinois Veterans Home: Dudley Mansion & Shirley Northern Garden
1401 Maine House*
428 Maine, Red Light Bar & Grill – National Register of Historic Places
1656 Maine House and Garden
910 Birdie Lane Garden
4733 North 12th House and Garden
Tickets are $15 in advance and are available at Domestics, Emerald City Jewelers, Kirlins in the Quincy Mall. Tickets are available for $20 on the day of the tour at any of the tour locations. *Ticket pickup and day-of credit cards sales at 1401 Maine only.
Quincy Preserves Annual Membership Picnic
The annual Quincy Preserves Membership Picnic will take place on June 22nd at 6:00 pm on the beautiful Illinois Veterans Home grounds at the Dudley Mansion. The evening will include a scholarship presentation and volunteer appreciation party.
The mission of Quincy Preserves, Inc., is to foster awareness of and to promote appreciation of the historic architecture of Quincy, Illinois, and Adams County and to encourage active membership involvement in the recognizing, protecting, maintaining and displaying of these structures.