Quincy Preserves plaques are awarded to historic homes or buildings in Quincy and Adams County that deserve special recognition. The criteria considered to be awarded a plaque includes:
interesting or unique architecture style,
historic use,
buildings by prominent architects of the time,
significance in the community, and
homeowner pride.
Properties are nominated and added to a list each year and the Quincy Preserves Plaque Committee votes using a point system to select the final winning properties. Once the Quincy Preserves Board has approved the selections, home/property owners are contacted. Our historian researches the original property owner and year built which is displayed on a beautiful bronze plaque and presented to the owners of the awarded properties. For more information about the plaque program, Contact Quincy Preserves.
Additional Resources
Quincy Preservation Commission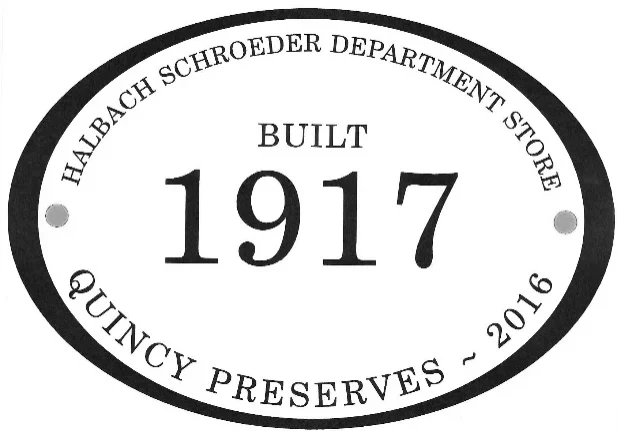 The properties that have been awarded a Quincy Preserves (QP) and/or Quincy Preservation Commission (QPC) plaque are as follows.
| QP/C | # | Same As | House # | Street | Awarded | YR Built | Historic Name | Architectural Style | Owner When Designated | QP/C2 | #3 | RCT | Current Owner |
| --- | --- | --- | --- | --- | --- | --- | --- | --- | --- | --- | --- | --- | --- |
| QPC | 93 | | 613 | 12th North | 39930 | c.1885 | Anton B. and Emma Wichmann Jr. House | Queen Anne | Ralph and Sheila Druffel | QPC | 93 | | Ralph & Sheila Druffel |
| QP | 153 | | 1707 | 12th North | 1994 | 1854 | Edward Dudley House - IL Veterans Home | Modified Italianate | | QP | 153 | | |
| QPC | 5 | | 3201 | 12th North | 32869 | c. 1860s | Frank Speckhart Farmhouse | Greek Revival/Italianate | Forrest Ramsey | QPC | 5 | | Dennis & Linda Boden |
| QPC | 29 | QP154 | 238 | 12th South | 34261 | 1889 | Ezra & Florence Best House | Romanesque Revival/Queen Anne | Robert Dwyer | QPC | 29 | | Robert Dwyer II, Trustee |
| QPC | 68 | QP155 | 327 | 12th South | 37691 | 1873 | Sarah A. Baker House | Gothic Revival/ Eastlake | Keith L. & Jean H. Delap | QPC | 68 | | Dick & Robin Wellman |
| QPC | 15 | QP156 | 425 | 12th South | 33827 | 1835 | John Wood Mansion | Greek Revival | Historical Society of Quincy & Adams Co. | QPC | 15 | | Historical Society of Quincy & Adams Co. |
| QP | 157 | | 1038 | 12th South | 2006 brnz | 1898 | William J & Bertha A Ruff House | Queen Anne | | QP | 157 | | |
| QPC | 42 | | 635 | 13th South | 35458 | 1925 | St. Peter's Evangelical Church- Hall | Tudor Revival | Wesley Bowen | QPC | 42 | | David & Tammara Goldschmidt |
| QP | 159 | | 100 | 14th South | 1991 brnz | 1931 | Quincy Senior High School | Collegiate Gothic/Art Deco | | QP | 159 | | |
| QP | 160 | | 217 | 14th South | 1996 brnz | 1890 | William F & Mary Berghofer House | ? | | QP | 160 | | |
| QP | 167 | | 421 | 14th South | 2010 brnz | 1892 | Sophia L Wise House | ? | | QP | 167 | | |
| QP | 197 | | 425 | 14th South | 2016 brnz | | | | | QP | ? | | |
| QP | 161 | QP191? | 825 | 14th South | 2014 brnz | 1875 | Fred & Anna Marie Wessel House | Vernacular / Double Pen | | QP | 161 | | |
| QP | 158 | | 605 | 14th North | 1996 | 1896 | Joseph G & Mary Eiff House; Note 2 | ? | | QP | 158 | | |
| QPC | 100 | | 813 | 15th South | 40904 | c.1924 | Henry C. and Marie Arp House | Craftsman/Prairie Bungalow | Marcia DuPont | QPC | 100 | | Marcia DuPont |
| QPC | 85 | QP162 | 205 | 16th South | 39559 | 1878 | Edward and Catherine Pfanschmidt House | Italiante w/ Queen Anne and Eastlake detailing | John and Helen Cornell | QPC | 85 | | John & Helen Cornell |
| QPC | 101 | QP163 | 222 | 16th South | 41574 | 1887 | William B. and Mary Bull House | Shingle | Harold B. & Kathryn Bennet Oakley | QPC | 101 | | Harold B. & Kathryn Bennet Oakley |
| QPC | 81 | | 234 | 16th South | 39160 | 1909 | Robert & Leila Turner Christie House | Colonial Revival | Nathaniel & Kerry Brooks | QPC | 81 | | Ann Michelle Bickhaus |
| QP | 164 | | 305 | 16th South | 1991 brnz | 1868 | Johann Gottlieb Brose House; Note 6 | Italianate | | QP | 164 | | |
| QPC | 72 | QP165 | 310 | 16th South | 38251 | 1917 | Joseph VandenBoom, Sr. House | Craftsman/ Prairie Style | Robert & Fran Cook | QPC | 72 | | Robert & Fran Cook |
| QP | 166 | | 327 | 16th South | 1991 brnz | 1872 | George Fischer House | ? | | QP | 166 | | |
| QPC | 49 | | 403 | 16th South | 35829 | 1879 | John Quincy Adams House | Italianate | Ken & Barb Cantrell | QPC | 49 | | Kenneth & Barbara Cantrell |
| QPC | 53 | | 1037 | 16th South | 36220 | 1892 | Henry Bauch House | Vernacular- Double-Pen | Bryon & Julie Ervin | QPC | 53 | | Bryon & Julie Ervin |
| QPC | 52 | | Alley | 16th to 18th St | 35829 | 1881 | H Plan Alley | Kentucky & State St. | City of Quincy | QPC | 52 | | City of Quincy |
| QP | 168 | | 120 | 18th North | 2007 brnz | 1845 | Lucius & Lucy Kingman House | Federal | | QP | 168 | | |
| QP | 169 | | 120 | 18th North | 2007 brnz | 1880s | Lucius & Lucy Kingman Carriage House | Romanesque | | QP | 169 | | |
| QP | 170 | | 166 | 18th North | 1991 brnz | 1904 | William T Duker House | Rusticuted Prairie | | QP | 170 | | |
| QP | 206 | | | 18th & College | 2017 | | Quincy University Administrative Building | | | | | | |
| QP | 205 | | | 18th & Spruce | 2017 | | Quincy University Stadium | | | | | | |
| QP | 171 | | 196 | 18th South | 2003 brnz | 1888 | Pliney Bliss & Elizabeth Williams House | Queen Anne | | QP | 171 | | |
| QPC | 58 | | 210 | 18th South | 36479 | 1883 | Joanna Wallace House | Victorian Gothic Revival | Chris & Monica Scholz | QPC | 58 | | Judy Kleinman |
| QP | 172 | | 218 | 18th South | 1992 | 1868 | Charles Whitmore House; Note 11 | ? | | QP | 172 | | |
| QPC | 86 | QP173 | 228 | 18th South | 39559 | 1894 | John Willis and Helen Gardner House | Shingle | Walter and Diane Giesing | QPC | 86 | | Walter & Diane Giesing |
| QPC | 35 | | 300 | 18th South | 34548 | 1895 | George & Marie Stahl House | Queen Anne | Dr. William & Mary Holt | QPC | 35 | | Alan & Galena DeYoung |
| QP | 174 | | 318 | 18th South | 1996 | 1846 | Morman's House; Note 2 | Modified Greek Revival | | QP | 174 | | |
| QP | 175 | | 422 | 18th South | 1993 brnz | 1909 | Arthur J Zolle House | Vernacular | | QP | 175 | | |
| QP | 176 | | 430 | 18th South | 2002 brnz | 1906/7 | Edward J & Rose Lohmeyer House | Queen Anne | | QP | 176 | | |
| QP | 196 | | 519 | 18th South | 2015 | | | | | QP | 196 | | |
| QP | 204 | | 2019 | 18th South | 2017 | | | | | | | | |
| QP | 178 | | 124 | 20th South | 1992 brnz | 1916 | Margarethe & Oliver Williams House | Prairie | | QP | 178 | | |
| QP | 179 | | 224 | 20th South | 1994 | 1911 | George & Sarah Wells House; Note 2 | Georgian Revival | | QP | 179 | | |
| QP | 177 | | 433 | 20th North | 2007 brnz | 1917 | August & Matilda Stroot House | Prairie | | QP | 177 | | |
| QPC | 88 | | 221 | 24th North | 39559 | 1914 | Albert C. and May King Fischer House | Craftsman Bungalow | Todd Nelson and Jennifer Bock-Nelson | QPC | 88 | | Todd Nelson & Jennifer Bock-Nelson |
| QP | 180 | | 616 | 24th North | 2005 brnz | 1940 | Coca-Cola Bottling Company Building | Art Deco | | QP | 180 | | |
| QPC | 82 | | 502 | 28th North | 39160 | 1935 | Warren & Helen King House | Eclectic (Craftsman/ Tudor) | John & Betty Gebhardt | QPC | 82 | | John & Betty Gebhardt |
| QP | 181 | | 126 | 24th South | 1986 alu | 1890 | S Colyer House | Queen Anne | | QP | 181 | | |
| QPC | 50 | | 230 | 24th South | 35829 | 1913 | Ray & Kate Oakley House | Prairie Style | Greg & Stephanie Brumitt | QPC | 50 | | Charles & Barbara McClain |
| QPC | 51 | QP182 | 405 | 24th South | 35829 | 1887 | Samuel & Lida Scott House | Queen Anne/ Shingle | David & Sharon Zimmerman | QPC | 51 | | Jeremy & Jennifer Dyer |
| QP | 183 | | 406 | 24th South | 1986 alu | 1840 | Residence ?????? | Greek Revival - Italianate | | QP | 183 | | |
| QP | 193 | | 709 | 24th South | 2015 | | | | | QP | 193 | | |
| QPC | 40 | QP127 | 137 | 3rd North | 34869 | 1871 | S. J. Lesem Building | Italianate | Lawrence & Marcia Swearingen, 406 Limerick | QPC | 40 | | Prock Real Estate, Inc. |
| QPC | 28 | | 734 | 4th North | 34261 | c. 1866 | Dr. Hebern Claflin House | Italianate | Patrick Clow | QPC | 28 | | Daniel Peters |
| QP | 129 | | 117 or 5 | 4th North | 1983 alu | 1867 | James Pitman Building | Italian Commercial | | QP | 129 | | |
| QP | 128 | | 101 | 4th North | 2004 brnz | 1930 | Lincoln-Douglas Hotel | Modified Art Deco | | QP | 128 | | |
| QP | 131 | | 416 | 4th South | 2012 brnz | 1852 | Charles H & Mary E Holtgrieve House | | | QP | 131 | | |
| QP | 130 | | 133 | 4th South | 2010 brnz | 1924 | Elks Club | ? | | QP | 130 | | |
| QPC | 14 | QP133 | 1001 | 5th North | 33827 | 1906 | Heidbreder Hagemann Drug Store | Early 20th Century Commercial | Mr. & Mrs. Ralph Hagemann, 323 Spruce St., Quincy, IL 62301 | QPC | 14 | | Gary & Sherry Sparks |
| QPC | 8 | QP132 | 819 | 5th North | 33302 | 1879 | James & Sarah Margaret Bradshaw House | High Victorian Eclectic | David & Constance Smith | QPC | 8 | | Paul & Kathleen Woodworth |
| QP | 134 | | 201 | 5th South | 2012 - May | 1913 | Mueller-Pinkelman Office Building | Prairie School/Commercial | | QP | 134 | | |
| QPC | 67 | QP135 | 237 | 6th North | 37691 | 1889 | Blackstone Building | Richardsonian Revival | Hubert G. Staff | QPC | 67 | | Hubert G. Staff, Trustee |
| QP | 138 | QP190 | 834 | 6th North | 2014 brnz | 1875-79 | Charles & Nancy Trowbridge House | Italianate | | QP | 138 | | |
| QP | 136 | | 808 | 6th North | 2012 - Dec | 1888 | Francis W Lyford House | ? | | QP | 136 | | |
| QPC | 41 | QP137 | 822 | 6th North | 34869 | 1886 | Sammuel & Jane E. Brown House | Queen Anne | Floyd & Sue Lish | QPC | 41 | | Floyd & Sue Lish |
| QP | 139 | | 117 | 7th North | 2003 brnz | 1898 | St Bonifafce Catholic Church Rectory | ? | | QP | 139 | | |
| QP | 140 | | 1119 | 7th South | 2006 brnz | 1892 | St Mary's Catholic Church | ? | | QP | 140 | | |
| QPC | 4 | QP141 | 126 | 8th North | 32869 | 1911-12 | Ernest M. Wood Office & Studio | Prairie Style | George Irwin, 128 S. 8th St. | QPC | 4 | | Merek, Inc. |
| QP | 142 | | 739 | 8th North | 1994 brnz | 1886 | First Baptist Church | ? | | QP | 142 | | |
| QPC | 87 | | 1111 | 8th North | 39559 | 1896 | St. Rose of Lima Rectory (later, Convent) | Queen Anne | Nickolas and J. A. Wellman | QPC | 87 | | Nickolas Wellman |
| QPC | 57 | QP143/4 | 1009 | 8th North | 36479 | 1911-12 | St. Rose of Lima Roman Catholic Church | Venetian Gothic Revival | St. Rose of Lima Roman Catholic Church, 1009 N. 8th St., Qcy IL '01 | QPC | 57 | | Rev. Arnaud J. Devillers, Roman Catholic Diocese |
| QP | 145 | | 1401 | 8th North | 1993 brnz | 1922 | Washington School | Prairie | | QP | 145 | | |
| QP | 194 | | 1225 | 8th North | 2015 | | | | | QP | 194 | | |
| QP | 146 | | 1525 | 8th North | 2011 brnz | cir 1885 | | | | QP | 146 | | |
| QPC | 99 | | 1401 | 8th North | 40904 | 1905 | John P. and Julia A. Arnold House | Queen Anne | Thomas & Melody McElroy | QPC | 99 | | Thomas & Melody McElroy |
| QPC | 70 | | 1539 | 8th North | 38251 | 1885 | Lorenz & Suzanne Woelfel Saloon | Queen Anne | Philip & Hedwig Elligsen | QPC | 70 | | Philip & Hedwig Elligsen |
| QP | 148 | | 1218 | 8th South | 2005 brnz | 1897 | Bernard Brackensick Shop | ? | | QP | 148 | | |
| QP | 149 | | 1327 | 8th South | 2006 brnz | 1904 | Berrian School | ? | | QP | 149 | | |
| QPC | 33 | | | 8th South | 34548 | 1899 | Stone Arch Bridge | | City of Quincy | QPC | 33 | | City of Quincy |
| QP | 147 | | 434 | 8th South | 2004 brnz | 1938 | The State Theater | Art Moderne | | QP | 147 | | |
| QP | 150 | | | 9th & State | 2002 brnz | 1912 | Labor Temple; Note 2 | Romanesque Revival | | QP | 150 | | |
| QPC | 34 | | 437 | 9th North | 34548 | 1898 | Albert & Amelia Evers House | Queen Anne | Albert & Barbara Veach | QPC | 34 | | Gary Musholt |
| QP | 151 | | 427 | 9th North | 1980 alu | 1869 | Temple B'nai Sholom; Note 1 | Moorish/Exotic Revival | | QP | 151 | | |
| QP | 152 | | 435 | 9th South | 1977 alu | 1876 | Salem Evangelical Church | Gothic Revival | | QP | 152 | | |
| QPC | 89 | | 1124 | 9th South | 39559 | 1937 | Gertrude A. Peters House | French Eclectic/ Norman Cottage | Thomas VanderBor | QPC | 89 | | Thomas VanderBor |
| QPC | 69 | | 1112 | 9th South | 38251 | 1901 | Jacob & Maria Young House | Queen Anne | David & Diane Tieken | QPC | 69 | | Thomas & Donna Freer |
| QPC | 95 | | 608 | Adams Street | 39930 | c. 1868 | John and Anna Neumann House | National I-house | Julian and Mari Boone | QPC | 95 | | Julian & Mari Boone |
| QPC | 30 | QP1 | 2210 | Aldo Boulevard | 34548 | 1939 | Clarence & Octavia Gerdes House | Art Moderne | James & Jeanette Bitter | QPC | 30 | | Blaise & Wendy McDonald |
| QPC | 17 | QP2 | 613 | Broadway | 33932 | 1873 | Robert W. Gardner House | French Second Empire/Italianate | William H. Klingner | QPC | 17 | | Richard Bybee & Marianne Peters |
| QP | 3 | | 835 | Cedar | 1991 brnz | 1895 | Almeron Wheat, Jr House | ? | | QP | 3 | | |
| QP | 4 | | 1019 | Cedar | 1993 | 1895 | St John the Baptist Catholic Church; Note 2 | Romanesque Revival | | QP | 4 | | |
| QPC | 97 | | 200 | Chestnut Street | 40904 | c. 1908 | Clatworthy ("Clat") L. Adams House | Prairie/Tudor Bungalow | Jeffrey and & Cheryl Hobson | QPC | 97 | | Jeffrey & Cheryl Hobson |
| QP | 5 | | 1728 | Chestnut Street | 2004 brnz | 1930 | Henry & Catherine Finkenhoefer House | Bungalow | | QP | 5 | | |
| QPC | 11 | QP6 | 331 | College Avenue | 33827 | 1866 | Fries/Kespohl House | Italianate | Robert R. & Amy Anderson | QPC | 11 | | Robert R. & Amy Anderson |
| QPC | 10 | | 323 | College Avenue | 33827 | 1866 | George T. Meyer House | Italianate | Luke Abbott , 1221 Highland Lane, Quincy, IL 62305-1127 | QPC | 10 | | Matthew Abbott |
| QPC | 16 | | 317 | College Avenue | 33932 | 1894-95 | Gustav & Mary Poetsch House | Queen Anne | David Marold | QPC | 16 | | David Marold |
| QP | 7 | | 1721 | College Avenue | 1993 brnz | 1884 | St Francis Solanus Catholic Church | Gothic Revival | | QP | 7 | | |
| QPC | 83 | QP198 | 2409 | Country Club Dr S | 39160 | 1954 | Aladar & Magdalene Kuna House | Mid-20th Century Modern | Brad & Karol Ehmen | QPC | 83 | | Brian Inman & Tina Albers |
| QP | 8 | | 401 | Delaware | 2009 brnz | 1898 | Engine House #4 (Fire Department) | Commercial Queen Anne | | QP | 8 | | |
| QP | 14 | | 330 | East Avenue | 1986 alu | 1915 | Dr John Reticker House | Prairie | | QP | 14 | | |
| QP | 9 | | 129 | East Avenue | 1986 alu | 1912 | F W Halbach House | Prairie | | QP | 9 | | |
| QPC | 18 | QP15 | 333 | East Avenue | 33932 | c. 1917 | George H. Behrensmeyer House | Prairie Style | Mr. & Mrs. Richard Galloway | QPC | 18 | | Raymond Smith & Patricia Nations |
| QP | 12 | | 201 | East Avenue | 2015 - Nov | 1937 | Louis & Gladys Monroe House | ? | | QP | 12 | | |
| QP | 16 | | 337 | East Avenue | 1994 brnz | 1930 | Paul Brady House | Faux Tudor Revival | | QP | 16 | | |
| QP | 11 | | 200 | East Avenue | 2009 brnz | 1918 | William J and Esther Singleton House | Prairie Box | | QP | 11 | | |
| QPC | 61 | | 125 | East Avenue | 37222 | c. 1897 | James & Florence Nielson House | Queen Anne/ Classical detailing | Gary Waters & Michael Meyers | QPC | 61 | | Cynthia & H. Blaine Strock III |
| QPC | 76 | QP13 | 300 | East Avenue | 38440 | 1917 | Martin J. & Frances Geise House | Prairie Style | Merle & Delores Crossland | QPC | 76 | | Ivan & Betty Wharton |
| QPC | 84 | QP10 | 133 | East Avenue | 39559 | 1892 | Martin/Rogers House | Shingle | Nona E. Miller | QPC | 84 | | Michael & Stephenie Steffens |
| QPC | 24 | | 332 | Elm Street | 34261 | 1868 | William Cramer House | Italianate/Greek Revival | Jane Frederick | QPC | 24 | | |
| QP | 17 | | 1239 | Gardner Expw | 2008 brnz | 1888 | Quincy House of Correction | ? | | QP | 17 | | |
| QPC | 96 | | 532 | Gardner Expw | 39930 | 1900 | Villa Kathrine/W. George Metz House | Moorish/Islamic | Quincy Park District, 1231 Bonansinga Dr., Quincy, IL 62301 | QPC | 96 | | Friends of the Castle |
| QP | 184 | | | Golden | 2002 brnz | 1873 | Prairie Mills Windmill | ? | | QP | 184 | | |
| QP | 18 | | 1800 | Grove | 2013 brnz | 1896 | Anne W Roberts House | ? | | QP | 18 | | |
| QP | 19 | | 1803 | Grove | 1982 alu | 1909 | Stoever House; Note 1 | Classic Revival | | QP | 19 | | |
| QPC | 55 | | 1843 | Grove Ave | 36479 | 1897 | Ernest M. Wood House | Queen Anne/ Tudor Revival/ Prairie Style | Scott & Robin Walden | QPC | 55 | | Scott & Robin Walden |
| QP | 32 | | 1665 | Hampshire | 2007 brnz | 1889 | Charles & Anna Comstock House | Queen Anne | | QP | 32 | | |
| QP | 34 | | 1883 | Hampshire | 2007 brnz | 1918 | East End Garage | Early 20th C. Commercial | | QP | 34 | | |
| QPC | 60 | | 425 | Hampshire | 36578 | 1871 | George Schultheis Building | Italianate | Jesse D. Griffin | QPC | 60 | | Sam & Kathy Dyer |
| QP | 22 | | 529 | Hampshire | 2002 brnz | 1914 | Illinois State Bank Building; Note 2 | ? | | QP | 22 | | |
| QP | 25 | | 725 | Hampshire | ????? | 1890 | J H Brockschmidt Building | ? | | QP | 25 | | |
| QP | 35 | | 2101 | Hampshire | 2012 brnz | 1914 | J W Henry House | ? | | QP | 35 | | |
| QPC | 64 | | 1641 | Hampshire | 37691 | c. 1886 | Jesse E. Weems House | Queen Anne | Emery L. & Bettie F. Kaufmann | QPC | 64 | | Alok & Jessica Patel |
| QPC | 43 | QP23 | 617 | Hampshire | 35500 | 1861 | Mathew & Electa Finlay House | Italianate | Jean Reddington | QPC | 43 | | Jean Reddington |
| QP | 28 | | 1475 | Hampshire | 2003 brnz | 1870 | Philip & Fannie Bert House | Gothic Revival | | QP | 28 | | |
| QPC | 54 | QP24 | 701 | Hampshire | 36221 | 1853 | St. John's Episcopal Church | Gothic Revival | Diocese of Quincy, 701 Hampshire St Quincy, IL 62301 | QPC | 54 | | St. John's Parish |
| QPC | 56 | QP30 | 1479 | Hampshire | 36479 | 1913 | Unitarian Church of Quincy | Tudor Revival | Unitarian Church of Quincy | QPC | 56 | | Unitarian Church of Quincy |
| QP | 33 | | 1678 | Hampshire | 2008 brnz | 1889 | Walter P & Mary Smith House | ? | | QP | 33 | | |
| QPC | 59 | | 425 | Hampshire | 36528 | 1924 | Washington Theater | Eclectic- "Mediterranean" | Mr. Greenwell, Sunwest, Inc., #9 Granview, Quincy, IL 62301 | QPC | 59 | | City of Quincy |
| QP | 20 | | 431 | Hampshire | 2002 brnz | 1924 | Washington Theater; Note 2 | ? | | QP | 20 | | |
| QP | 26 | | 729 | Hampshire | 1994 brnz | 1872 | A J Lubbe Building; Note 7 | ? | | QP | 26 | | |
| QP | 27 | | 733 | Hampshire | 1994 brnz | 1909 | Joseph Lubbe Building; Note 7 | ? | | QP | 27 | | |
| QP | 29 | | 1476 | Hampshire | 1982 brnz | 1868 | Lemley - Johnson House; Note 8 | Italianate - Queen Anne | | QP | 29 | | |
| QP | 31 | | 1617 | Hampshire | 1986 alu | 1861 | Matthew Finlay House | Italianate | | QP | 31 | | |
| QP | 21 | | 501 | Hampshire | 2004 brnz | 1872 | William L King Building | Commercial/Italianate | | QP | 21 | | |
| QPC | 79 | | 2328 | Hawthorne | 39160 | 1955-1960 | James/Mallory House (Hawthorne Hill Rd W) | Mid-20th Century Modern | John & Mary Ellen Inman | QPC | 79 | | John & Mary Ellen Inman |
| QPC | 65 | QP48 | 2000 | Jersey | 37691 | 1907 | Charles H. Appleton House | Georgian Revival | Alan L. & Mary E. Stiegemeier | QPC | 65 | | Alan & Mary Stiegemeier, Trustees |
| QPC | 102 | | 1661 | Jersey | 41574 | 1889 | Dickhut/Fawcett/Gates House | Queen Anne | Estate of Mildred I. Gates, | QPC | 102 | | Estate of Mildred I. Gates, |
| QP | 50 | | 2026 | Jersey | 1983 alu | 1918 | Dr John A Koch House | Dutch Colonial | | QP | 50 | | |
| QPC | 9 | | 415 | Jersey | 33387 | c. 1835 | Dr. Richard Eells House | Federal/Greek Revival | Friends of Dr. Richard Eells House, 415 Jersey St., Qcy, IL 62301 | QPC | 9 | | Friends of the Dr. Eells House c/o George Irwin |
| QP | 44 | | 1825 | Jersey | 1986 alu | 1904 | Edward Wells House; Note 1 | Modified Prairie | | QP | 44 | | |
| QP | 51 | | 2137 | Jersey | 2006 brnz | 1909 | Frederick & Anna Wilms Caretaker's House | ? | | QP | 51 | | |
| QP | 47 | | 1850 | Jersey | 2003 brnz | 1913 | J Henry & Flora Bastert House | Prairie | | QP | 47 | | |
| QPC | 104 | | 2003 | Jersey | 42346 | c. 1927 | J. Russell Williams House | Tudor Revival | Ellen A. McIntyre | QPC | 104 | | Ellen A. McIntyre |
| QP | 52 | | 2301 | Jersey | 1994 brnz | 1924 | James W VanValzah House | ? | | QP | 52 | | |
| QP | 39 | | 1515 | Jersey | 1986 alu | 1887 | Lorenzo Bull Carriage House; Note 1 | Eastlake/Gothic Revival | | QP | 39 | | |
| QP | 43 | | 1819 | Jersey | 2004 brnz | 1893 | Louis & Effie Neustadt House | High Queen Anne | | QP | 43 | | |
| QP | 38 | | 1210 | Jersey | 1994 brnz | 1894 | Luther Memorial Church | Gothic Revival | | QP | 38 | | |
| QP | 37 | | 428 | Jersey | 2002 brnz | 1911 | Masonic Temple; Note 2 | ? | | QP | 37 | | |
| QPC | 103 | QP203 | 1840 | Jersey | 41574 | 1928 | Newcomb Stillwell House | Mediterranean Eclectic | S. Kent & Teresa Adams | QPC | 103 | | S. Kent & Teresa Adams |
| QPC | 98 | QP46 | 1845 | Jersey | 40904 | 1909 -1930 | Otto and Anna Mohrenstecher House | Colonial Revival | Brett & Deborah Gorman | QPC | 98 | | Brett & Deborah Gorman |
| QP | 45 | | 1837 | Jersey | 1994 brnz | 1907 | Philip Dickhut House | ? | | QP | 45 | | |
| QP | 41 | | 1803 | Jersey | 2013 brnz | 1887 | The Stewart House | ? | | QP | 41 | | |
| QP | 49 | | 2016 | Jersey | 1977/1986 | 1890 | Theodore Poling House; Note 2 | Romanesque Revival | | QP | 49 | | |
| QPC | 80 | | 2102 | Jersey | 39160 | 1892 | Thompson/Hill House & Carriage House | Queen Anne | Anne Sosnkowski | QPC | 80 | | Anne Sosnkowski |
| QP | 40 | | 1624 | Jersey | 2012 brnz | 1888 | William & Lydia Warfield McMein House | ? | | QP | 40 | | |
| QP | 42 | | 1804 | Jersey | 1986 brnz | 1883 | William Richardson House (was 207 S 18th) | Stick | | QP | 42 | | |
| QP | 60 | | 1875 | Kentucky | 1994 brnz | 1902 | Anna Wood House | ? | | QP | 60 | | |
| QPC | 25 | | 1020 | Kentucky | 34261 | 1917 | August (Manny) Dick House | Craftsman | Kenneth & Clare Goerlich | QPC | 25 | | Clare Goerlich |
| QP | 55 | | 1242-44 | Kentucky | 1986 | ? | Duplex; Note 2 | ? | | QP | 55 | | |
| QP | 58 | | 1835 | Kentucky | 1991 brnz | 1850 | Francis Baker House; Note 2 | ? | | QP | 58 | | |
| QP | 53 | | 1032 | Kentucky | 2010 brnz | 1899 | John F & Louisa Pieper House | ? | | QP | 53 | | |
| QP | 59 | | 1870 | Kentucky | 1994 | 1950 ? | Marion Gardner Jackson House; Note 2 | French Country | | QP | 59 | | |
| QP | 56 | | 1440 | Kentucky | 2008 brnz | 1918 | Oliver G & Myrtle Pieper House | Bungalow | | QP | 56 | | |
| QPC | 71 | | 1269 | Kentucky | 38251 | 1891 | Robert C. Gunther House & Carriage House | Queen Anne | Charles & Barbara McClain | QPC | 71 | | Billy & Shelley Carr |
| QP | 57 | | 1505 | Kentucky | 1993 brnz | 1914 | Robert Schott House | Bungalow | | QP | 57 | | |
| QP | 54 | | 1238 | Kentucky | 2011 brnz | cir 1875 | | ? | | QP | 54 | | |
| QP | 202 | | 1515 | Kentucky | 2017 | | | | | | | | |
| QP | 61 | | 531 | Lind | 1993 | 1872 | William Larkworthy House | ? | | QP | 61 | | |
| QP | 63 | | 1419 | Locust | 2004 brnz | 1865 | Charles A Savage House | Itanianate | | QP | 63 | | |
| QP | 62 | | 8xx | Locust | 2013 brnz | 1886 | Original Entrance - Illinois Veterans Home | ? | | QP | 62 | | |
| QPC | 77 | | 900 | Madison | 39006 | 1887 | Herman H. & Mary Wilke House | Queen Anne | Robert & Lori Orr | QPC | 77 | | Robert & Lori Orr |
| QPC | 90 | | 1805 | Maine | 39559 | 1922 | Arthur O. and Roberta H. Lindsay Sr. House | Prairie | Johnson, Rebecca L & Jacob W Scholz | QPC | 90 | | Rebecca Johnson & Jacob Scholz |
| QPC | 74 | QP85 | 1677 | Maine | 38440 | 1880 | Baldwin/Dayton/Emery House | Queen Anne/ Eastlake | Charles Rollins & Riddell Noble | QPC | 74 | | Riddell Noble |
| QPC | 92 | | 1673 | Maine | 39930 | 1880-1883 | Bushnell/Parker House | Queen Anne with Eastlake details | Greg Lueckenhoff | QPC | 92 | | |
| QPC | 3 | | 1651 | Maine | 32869 | 1857 | Charles Henry Bull House | Italianate | George Irwin, 126 S. 8th St | QPC | 3 | | Larry & Marlana Minnick |
| QP | 87 | | 1824 | Maine | 2002 brnz | 1894 | Charles S & Olive B Nichols House | Queen Anne | | QP | 87 | | |
| QPC | 32 | | 1680 | Maine | 34548 | 1889 | Colonel Edward Prince House | Queen Anne/ Tudor Revival | David & Charlotte Bueltmann | QPC | 32 | | Terrell & Vicki Dempsey |
| QP | 90 | | 2221 | Maine | 1996 brnz | 1882 | D Lafayette & Mary Musselman Cottage | ? | | QP | 90 | | |
| QPC | 20 | QP76 | 1477 | Maine | 33932 | 1866 | David W. Miller House & Carriage House | French Second Empire/ Italianate | Dr. & Mrs. James W. Gwaltney, Jr. | QPC | 20 | | Titan International, Inc. |
| QPC | 23 | | 2203 | Maine | 33932 | 1888 | DeLafayette Musselman House | Queen Anne/Romanesque Revival | John Varnier | QPC | 23 | | David & Tracy Waterkotte |
| QPC | 22 | | 1656 | Maine | 33932 | 1896 | Dr. Grant Irwin House | Queen Anne/Richardsonian Romanesque | Michael & Barbara Klingner | QPC | 22 | | Michael & Barbara Klingner |
| QPC | 31 | QP75 | 1469 | Maine | 34548 | c.1880 | Dricus & Fanny Snitjer House | French Second Empire | Ned & Reaugh Broemmel | QPC | 31 | | William & Mary Fairbairn |
| QPC | 21 | QP80 | 1627 | Maine | 33932 | c.1895 | Edward A. Rogers House | Romanesque Revival | Mark & Shay Drummond | QPC | 21 | | Jeff & Bethany Knobloch |
| QP | 82 | | 1636 | Maine | 1982 | 1876 | Edward Manson House; Note 2 | Eastlake/Queen Anne | | QP | 82 | | |
| QPC | 75 | QP86 | 1801 | Maine | 38440 | 1902 | George & Sadie Dashwood House | Neoclassical | Stephen & Elizabeth Scott | QPC | 75 | | William & Marcia Dougherty |
| QPC | 46 | | 909 | Maine | 35829 | 1927 | George Keller & Sons Implement Co. | Commercial Style of 20th Century | George Keller & Sons | QPC | 46 | | George Keller & Sons |
| QP | 91 | | 2304 | Maine | 2005 brnz | 1867 | Gottfried Ehrgott House | ? | | QP | 91 | | |
| QPC | 19 | QP69 | 1401 | Maine | 33932 | 1875-76 | Henry E. Dickhut House | Italianate/French 2nd Empire/Queen Anne/Eastlake | Thomas E. & Terri Turner | QPC | 19 | | Thomas E. Turner |
| QP | 68 | | 735 | Maine | 1993 | 1894 | Hoeckelman Building; Note 2 | Romanesque Revival | | QP | 68 | | |
| QPC | 36 | QP73 | 1449 | Maine | 34869 | 1890 | Isaac & Ellen Lesem House | Queen Anne | James W. Carrott | QPC | 36 | | John & Janet Reinhardt |
| QP | 66 | | 615 | Maine | 1994 brnz | 1926 | J C Penney Building | ? | | QP | 66 | | |
| QP | 88 | | 1877 | Maine | 1996 | 1877 | J Seymour & Carrie Castle House; Note 2 | Gothic Revival | | QP | 88 | | |
| QPC | 6 | QP72 | 1444 | Maine | 33078 | 1859 | James T. Baker House | Italianate | Quincy Board of Education | QPC | 6 | | W. Ralph Canada, Jr. Trustee KCTG Family Trust |
| QP | 67 | | 729 | Maine | 1993 | 1866 | Johann Schurmeier Building | Italianate | | QP | 67 | | |
| QP | 81 | | 1631 | Maine | 2012 - Dec | 1881 | John B & Jennie Carson House | Queen Anne w Prairie porch | | QP | 81 | | |
| QPC | 73 | | 2020 | Maine | 38251 | 1904 | John S. Cruttenden House | Colonial Revival /Neoclassical | Bennie & Ellen Hines | QPC | 73 | | Ellen J. Hines |
| QP | 93 | | 2639 | Maine | 2013 brnz | 1910 | John W Schanz House | ? | | QP | 93 | | |
| QP | 74 | | 1461 | Maine | 2005 brnz | 1868 | Jonathan Parkhurst House | Italianate | | QP | 74 | | |
| QP | 83 | | 1648 | Maine | 1992 brnz | 1921 | Katherine Botsford Gay House | Tudor Revival | | QP | 83 | | |
| QP | 77 | | 1550 | Maine | 1986 alu | 1851 | Lorenzo Bull House | Italianate | | QP | 77 | | |
| QPC | 47 | | 917 | Maine | 35829 | 1897 | Lubbe Building | Commercial Style of 20th Century | George Keller & Sons | QPC | 47 | | George Keller & Sons |
| QP | 92 | | 2435 | Maine | 1993 | 1890 | Madison School | Romanesque Revival | | QP | 92 | | |
| QPC | 44 | QP70/188 | 1422 | Maine | 35500 | 1876 | Morris & Lebra Felsenheld House | Queen Anne/ Eastlake | Gerald & Maureen Schwarz | QPC | 44 | | |
| QPC | 48 | | 2150 | Maine | 35829 | 1897 | Otho C. Poling House | Queen Anne/ Shingle/Tudor Revival | John & Josephine Fick | QPC | 48 | | John & Susan Moore |
| QPC | 1 | QP64C | 332 | Maine | 32869 | 1889 | Quincy Free Public Library & Reading Rm | Romanesque Revival | Gardner Museum of Architecture & Design | QPC | 1 | | Historical Society of Quincy &Adams Co. |
| QP | 78 | | 1601 | Maine | 1980 alu | 1890-1 | R F Newcomb House | Romanesque Revival | | QP | 78 | | |
| QP | 84 | | 1668 | Maine | 1986 alu | 1834 | Robert Tillson House; Note 12 | Greek Revival | | QP | 84 | | |
| QP | 65 | | 534 | Maine | 2004 brnz | 1923 | S S Kresge Company Building | Commercial Craftsman | | QP | 65 | | |
| QP | 199 | | 6xx | Maine | 2016 brnz | 1962 | St Boniface Catholic Church | | | QP | ? | | |
| QPC | 2 | QP195 | 428 | Maine | 32869 | 1892E;1906W | State Saving Loan & Trust Co. | Romanesque Revival | George Irwin, 126 S. 8th & 1906 West | QPC | 2 | | Prock Real Estate, Inc. |
| QPC | 66 | QP71 | 1443 | Maine | 37691 | c.1868 | Tilden Selmes House | Italianate/ Neoclassical detailing | Ronald C. & Sandra K. Frillman | QPC | 66 | | Ronald C. & Sandra K. Frillman |
| QPC | 94 | | 614-616 | Maine | 39930 | 1901 | W.W. Benton/W.T. Duker Company Building | Neoclassical Commercial | Patrick and Robin Taylor | QPC | 94 | | Patrick & Robin Taylor |
| QP | 89 | | 2051 | Maine | 2003 brnz | 1897 | William & Lizetta Fick House | Queen Anne | | QP | 89 | | |
| QP | 94 | | 2706 | Maine | 2008 brnz | 1906 | William E & Lillian Morehead House | ? | | QP | 94 | | |
| QPC | 91 | | 1809 | Maine | 39559 | 1922 | William H. and Florence B. Baker House | Prairie | Victor and Tina Wingerter | QPC | 91 | | Charles & Jamie Scholz |
| QP | 79 | | 1624 | Maine | 1986 | 1886 | William S Warfield House | Romanesque Revival | | QP | 79 | | |
| QP | 95 | | 2707 | Maine | 2005 brnz | 1893 | Woodland Home for Orphans & Friendless | Queen Anne | | QP | 95 | | |
| QPC | 13 | QP96 | 929 | Monroe | 33827 | 1874 | St. Paul's Kirche | Victorian Gothic Revival | The Crossing, 150 South 48th St., Quincy, IL 62305-0400 | QPC | 13 | | Unity Church of Quincy |
| QP | 200 | | 1055 | N 400th Ave | 2016 brnz | 1894 | Bluff Hall Evangelical Free Church (Ave, Payson) | AKA Deutsche-Evangelische Zions-Kirche | | QP | ? | | |
| QP | 97 | | 905 | Oak | 2002 brnz | 1871 | Bethel AME Church | ? | | QP | 97 | | |
| QP | 101 | | 2336 | Oak | 1980 alu | 1939 | Ernest Chatten House | Art Moderne/International | | QP | 101 | | |
| QP | 99 | | 1408 | Oak | 1992 brnz | 1892 | Joseph Rhodes House | ? | | QP | 99 | | |
| QP | 98 | | 1405 | Oak | 2011 brnz | c.1891 | | | | QP | 98 | | |
| QP | 100 | | 1411 | Oak | 2011 brnz | c.1895 | | | | QP | 100 | | |
| QPC | 26 | | 1224 | Park Place | 34261 | 1897 | August R. Dorkenwald House | Free Classic Queen Anne/ Prairie Style | Lee & Joan Kammelar | QPC | 26 | | Kathleen Roe |
| QPC | 7 | QP102 | 1200 | Park Place | 33302 | c.1888 | Cruttenden/Tibbetts House | Queen Anne | Ron J. Prokoff | QPC | 7 | | John (Jack) Varnier |
| QP | 103 | | 1206 | Park Place | 1993 brnz | 1891 | Edward Menke House | Queen Anne Modified | | QP | 103 | | |
| QP | 104 | | 1221 | Park Place | 1992 brnz | 1910 | John L Duker House | Queen Anne | | QP | 104 | | |
| QP | 106 | | 1233 | Park Place | 1993 brnz | 1901 | Joseph Lubbe House | Queen Anne | | QP | 106 | | |
| QP | 105 | | 1230 | Park Place | 2012 brnz | 1888 | Julius Silberman House | | | QP | 105 | | |
| QP | 108 | | 1270 | Park Place | 1991 brnz | 1915 | Mary Wewers House | Prairie Style | | QP | 108 | | |
| QP | 107 | | 1244 | Park Place | 1993 brnz | 1892 | Thomas Binkert House | Queen Anne | | QP | 107 | | |
| QP | 109 | | 2019 | Prairie | 2002 brnz | 1906 | Walter E & Milly D Dorsey House | English Tudor Revival | | QP | 109 | | |
| QP | 201 | | 2105 | Prairie Ave | 2016 brnz | | | | | QP | ? | | |
| QPC | 37 | | 2531 | Prentiss Ave | 34869 | c.1840 | Benjamin & Electa Terrel House | Vernacular - Two-Thirds Double Pile | Paul & Pam Larson | QPC | 37 | | Walter Swallow III |
| QPC | 78 | | 200 | South Front | 39006 | 1909 | North Side Boat Club | Eclectic/Mission | City of Quincy c/o Ron Grant | QPC | 78 | | City of Quincy |
| QP | 112 | | 1512 | Spring | 2010 brnz | 1909 | Frank & Martha Druffel House | ? | | QP | 112 | | |
| QP | 110 | | 805 | Spring | 2003 brnz | 1897 | George & Josephine Wahl Ricker House | ? | | QP | 110 | | |
| QPC | 38 | QP111 | 1431 | Spring | 34869 | 1879 | Henry & Josephine Freiburg House | Folk Victorian | James & Robin Hornsey | QPC | 38 | | Dean & Sandra Schulte |
| QPC | 27 | | 319 | Spruce | 34261 | 1908 | R. M. Walter & Maggie Heiderich House | Bungalow/ Neoclassical | Gary & Sherry Sparks | QPC | 27 | | Pamela Markert Rev Trust |
| QP | 192 | | 1124-26 | State | 2014 | | & Carriage House | | | QP | 192 | | |
| QPC | 45 | | 1100 | State | 35500 | 1889 | Albert & Anna Dick House | Queen Anne | Kay Phillips | QPC | 45 | | Paul & Jane Lester |
| QP | 113 | | 601 | State | 2004 brnz | 1901 | Anheuser Busch Office Building | Ecclectic | | QP | 113 | | |
| QPC | 39 | | 3130 | State | 34869 | 1850-1865 | Benjamin Burroughs/Gustav Klarner House | Italianate | Darlene Doyle | QPC | 39 | | Darlene Doyle |
| QP | 116 | QP189 | 1401 | State | 2014 brnz | 1912 | Dr August W & Haddie Werner House | Prairie | | QP | 116 | | |
| QP | 114 | | 1124-26 | State | 2014 brnz | 1896 | Dr William G & Emma Schmidt Carriage House | Queen Anne | | QP | 114 | | |
| QP | 115 | | 1301 | State | 2008 brnz | 1882 | Louis & Antonia Wolf House | Gothic Revival | | QP | 115 | | |
| QP | 117 | | 5931 | State | 2011 brnz | cir 1838 | | | | QP | 117 | | |
| QP | 118 | | 906 | Vermont | 2004 brnz | 1924 | Quincy Central Fire Station | 20th Century Commercial | | QP | 118 | | |
| QPC | 63 | QP119 | 1621 | Vermont | | c. 1897 | William & Ella Dwire House | Queen Anne/ Tudor Revival/ Craftsman | William & Mary Twaddle | QPC | 63 | | Carl & Shirley Churchill |
| QP | 120 | | 4 | York Lane | 1986 alu | 1864 | Residence | Italianate | | QP | 120 | | |
| QP | 121 | | 1810 | York Lane | 2013 brnz | 1864 | William V Channon House | ? | | QP | 121 | | |
| QPC | 105 | | 1634 | York Street | 42346 | 1907 | Anna Bader Kespohl House | American 4-square w/Prairie & Tudor Revival | John K. & Frances Scott | QPC | 105 | | John K. & Frances R. Scott |
| QP | 124 | | 1657 | York Street | 2005 brnz | 1887 | George Castle House | Queen Anne | | QP | 124 | | |
| QP | 125 | | 2320 | York Street | 1993 brnz | 1923 | Henry Sprick House | Modified Prairie | | QP | 125 | | |
| QP | 123 | | 1635 | York Street | 2005 brnz | 1890 | Oscar & Mary Heinze House | Queen Anne | | QP | 123 | | |
| QP | 126 | | 2332 | York Street | 1992 | 1919 | Walter Heidbreder House; Note 2 | Prairie | | QP | 126 | | |
| 255 Properties to do a Windschield Review of on 04/07/2018 | | | | | | | | | | | | | |